Winter break might not seem like it is long enough except for when it comes to missing the friends that you spend nearly every day and night with. There is no reason to suffer through missing each other when there are so many easy ways to keep in touch. Here are a few easy ways of keeping tight when distance separates you from your besties.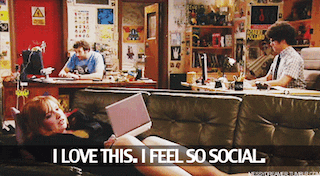 What is Social Media for Anyways?
If it isn't for keeping an eye on every detail of your friend's lives then it is pretty much useless. Respond to posts, tweets and messages. Make sure to tag your best pals in your own posts to let them know they are on your mind.
Facetime!
Seriously, there is absolutely no reason to let the fact that you are temporarily on opposite sides of the country challenge your friendships when you can facetime. Set up a few facetime dates before you even finish that last exam.
Learn How to Use a Stamp
Maybe your grandmother hooked you up over the holidays with some fancy old timey stationary. Instead of letting it sit there, unused for the next decade send a sweet, handwritten note to your friends. Just remember to get out into the mail as soon as possible because the post office just isn't as fast as a text. Here is an excellent article on how to impress your friends with the elegant art of letter writing.
Friends that Game Together Stay Together
You can still hang out with your friends and even explore some crazy new scenarios when you play interactive games together. Use a platform such as Steam to choose which games to play and connect through a community. Gaming can add an intriguing new element to your relationships and you can really get to know people in a new way through gameplay. There are plenty of options for every interest and the type of gaming technology that is available to you. Most games require little more than a computer with average capabilities.
Connect in the Usual Ways
Did you and your friends get together every week to watch Broad City or The Walking Dead? Do you have a regular table for martinis on Thursday night? Do you shoot hoops every Wednesday after your afternoon class? There is no reason to break away from these regular college life customs. In fact, finding a way to still make them happen when the miles separate you can really strengthen your friendship bonds. Whatever it is that you and your friends do together, plan to keep doing it while on break. Facetime each other from the local bar for happy hour, chat while watching "your show", brag up how well you did at the gym and how you are going to dominate your next hoops game. Not only will you stay close, but you might even gain a new appreciation for the little events that you often take for granted.
Holiday break is a time that is meant to be relaxing and restorative both physically and mentally. Missing your friends can really put a big ugly dent in how much you enjoy your time away. Don't let that happen. Keep your friendships a priority and share your experiences with each other during break, but keep a few bits quiet. After all, you still want something to share when you all meet to catch up.